Balanced Sound Distribution
The best Bluetooth speaker systems have multiple speaker drivers that serve to produce all of the rich tones that most of us have come to expect from a quality system. You need the tweeters to produce the treble sounds, passive radiators for those mid-level tones, and subwoofers for the deep bass tones that are great for those pounding drum tracks. This Harman-Kardon system is designed with all of these things in mind as it has two three-inch woofers, two 0.75-inch tweeters, and two passive radiators for a full, rich sound. The end result is that your music comes out sounding as it was intended by its creator – moving and powerful.
Let The Music Play on
The Onyx Studio 2 is meant to be played when you're out on the go; with that in mind it has a built-in lithium-ion battery that will let you take it with you anywhere. Its charge will last you about 5 or 6 hours; not bad, but a little disappointing when compared to some other Bluetooth systems. On average most Bluetooth speakers with rechargeable batteries will last you between 8 and 10 hours and there are even systems that will go on playing for up to 14 or 15 hours. When you compare this speaker's battery performance against some of these competitors, it comes up a little short.
Powerfull Sound in a Small Package
It never ceases to amaze me when I come across a small speaker these days that produces a level of sound that simply makes your hair stand on end. I had an old Pioneer stereo system back in the 90s and I thought it was pretty impressive, but when I look back on it now the sound that it produced with its multitude of speakers and expensive amplifier system was about comparable to the sound that you can expect from the Harman-Kardon Onyx Studio 2. This little speaker is only 15W, but through the use of technological tricks it's able to amplify that sound over four channels to produce 60W of powerful sound. It's pretty impressive stuff when you think about it.
Some Extra Components
In the early days Bluetooth speaker systems were built for one thing and one thing only – to play music from an MP3 player. Today Bluetooth speakers are often capable of much, much more and this model by Harman is no exception. This speaker has a built-in component that allows it to be used as a crystal clear speakerphone system when paired with your smart phone – it's simple to set up and a great extra feature.
This speaker also has a micro USB port which will allow you to connect your devices directly if you don't want to use Bluetooth for playing your music, and it can also be used for software updates. It's nice to have a backup if you don't want to use Bluetooth, as this speaker is only designed to be used with two separate systems.
And now the bad
Apart from the limited battery life we've already mentioned there are a couple of other issues with this speaker. It is a little heavy at about 7 pounds; it's not ideal for throwing in your purse, but it's still fairly portable. The one thing that really surprised me about the speaker, though, is that it doesn't have an auxiliary port. While most devices do work with Bluetooth these days, many of the best Bluetooth speaker systems still provide an auxiliary port as an option for compatibility with older devices. In my opinion this is something that Harman-Kardon should definitely have included.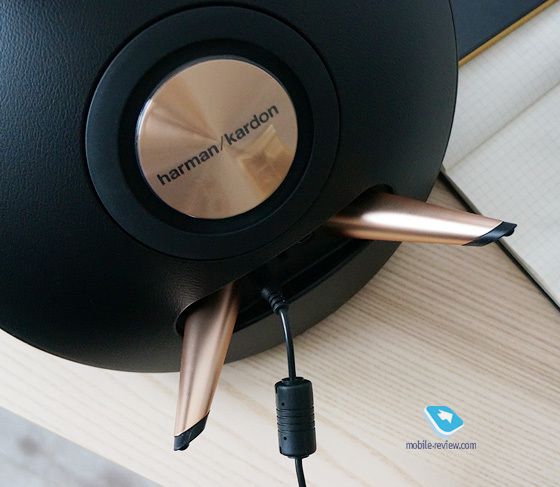 A speaker worth listening to
The Harman-Kardon Onyx Studio 2 is a Bluetooth speaker system designed to fill up your room with impressive sound quality. Its combination of sound drivers produces 60W of sound, which is more than enough for most people's needs. As a bonus it also has speakerphone capability and a rechargeable battery to make it fully portable. If you're looking for a great Bluetooth speaker for those backyard summer barbecues, this is the perfect choice.
Everybody's taste in music is different, but the one thing we all share is a desire to find the perfect sound system to play our favorite tunes – or at least a perfect sound system for us. The perfect sound system doesn't have to be the best sound system, it just has to be the one that suits our own needs and fits our lifestyle. For many people a portable Bluetooth speaker has become the best option, and with a wide-ranging selection to choose from it's a good idea to sit back and consider your options carefully.
The Harman-Kardon Onyx Studio 2 is a Bluetooth speaker system that deserves serious consideration if you're looking for quality sound at a price you can afford. While the system's suggested retail price is around $400, you will frequently find it on sale for less than $200, which is a considerable saving. Either way it's still great value for the money, as the sound that it produces is quite impressive.
Design
We know that beauty is in the eye of the beholder, but it's practically impossible not to like what you see. Harman Kardon really did a great job. The speaker is maybe a little bit bulky, but it's still very attractive. The speaker is available in two colors (black and white) and those bronze details (logos, passive bass radiator on the back side, and feet) contribute to the visual presentation and make it look even more elegant.
The front side is completely covered with a nice removable grille. The grille construction is made of hard plastic and covered with a thick cloth. Small Harman/Kardon logo is located in the middle of the grille and mic icon is at the bottom. When you remove the grille, you will see four drivers – two 3-inch woofers, two ¾inch tweeters (+ one passive bass radiator). The speaker looks equally attractive with and without the grille. The speaker is slightly angled backward in order to provide better and more effective sound dispersion.
On the back side, you will see a carrying handle at the top and bronze passive bass radiator in the middle. Input ports and two bronze feet are located at the bottom.
The speaker features 3 input ports – power input, AUX input (which is the most noticeable upgrade compared to Onyx Studio 4), and a micro USB port for updates.
The feet are rubberized in order to provide better stability and eliminate vibrations caused by powerful bass.
The rim of the speaker is wrapped in rubber and on the top of the speaker, along the rim, there are 5 controls buttons – power button, 2 volume buttons, speakerphone button, and the Bluetooth button. Only power and Bluetooth buttons are backlit. It would be much better if all the buttons were backlit.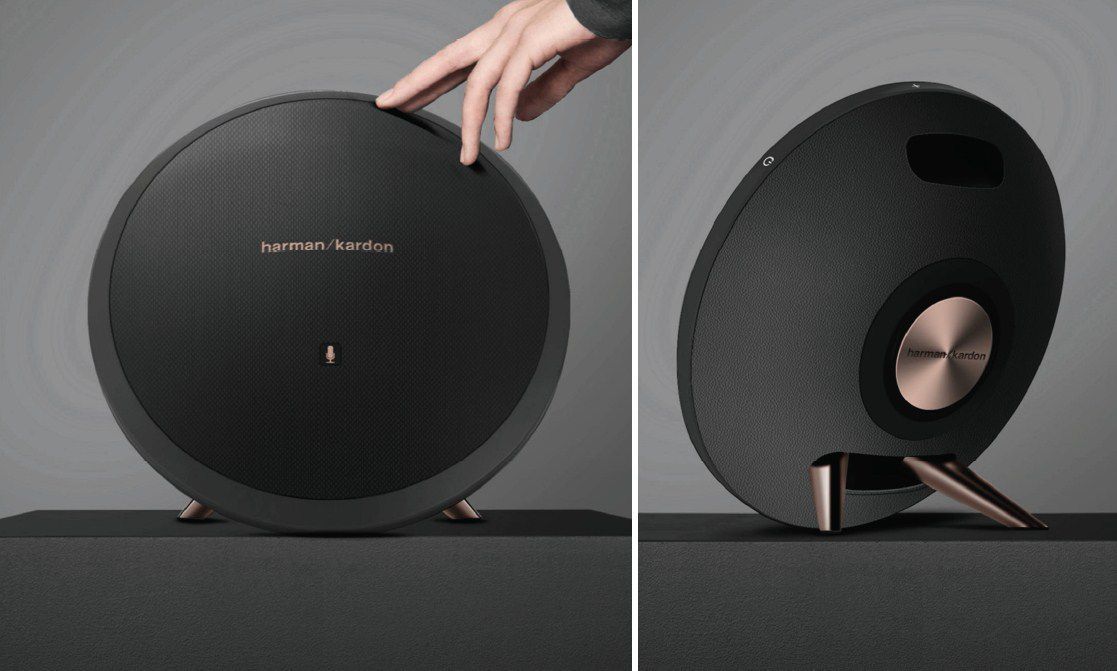 Features
The speaker is nicely built and looks quite durable. It's mostly made of hard plastic and has some rubbery reinforcements along the rim. Unfortunately, it's not IPX-certified and it's not rugged so you might want to avoid outdoor use. This is more of a desktop speaker even though it's battery-operated.
As we have already said, the speaker features 4 drivers (2 woofers and 2 tweeters) and two passive bass radiators. The peak output power of the speaker is 60W (4x15W) and max SPL is rated at 95dB.
Harman Kardon Onyx Studio 2 features Bluetooth 3.0 with an advertised range of 33ft. We have expected some advanced features like NFC or daisy chaining since the price is quite high, but you won't get them. If you want to connect some none-Bluetooth device, you can use that 3.5mm port on the rear panel.
On the other hand, the speaker supports the multi-host feature. Harman Kardon calls it social mode. It's possible to pair two Bluetooth-enabled devices simultaneously with the speaker.
The built-in battery has the capacity of 2,600mAh and the manufacturer claims that you can get up to 5 hours of playtime per one charge (no info on the volume level). Recharge takes approx. 5 hours.
Onyx Studio 2 also has a built-in mic with noise and echo canceling technology for clearer calls.
There's no app that you can use to control the playback or adjust the EQ settings. You cannot use HK Connect app with this speaker.
Performance
Controls are very simple and easy to use. There are no multifunction buttons and you will master the controls in no time. We would like to mention two minor issues. First, there are no play/pause and track buttons and you will have to use your phone to control the playback. Second, only two buttons are backlit (power and Bluetooth) and others are not.
Paring takes a few seconds and it's not complicated. Bluetooth range is pretty much standard. You will experience some signal loss at 30ft distance (if there are no obstacles).
Battery capacity is decent but the playtime is not. It's below industry standard. You will get 5 hours, but only at 40-50% volume. Increasing the volume will shorten the playtime. At 80-90% volume, you will get less than 3 hours. Some speakers with the same price tag (and some cheaper speakers) deliver much more than 5 hours at 50% volume. To be completely fair, not all of these speakers have 4 drivers and 2 passive bass radiators. Harman Kardon was more concentrated on the sound quality than on the playtime. It's almost like they designed it as a home speaker and then just added battery because there was some space left.
Noise-canceling built-in mic delivers above-average performance. It's not perfect, but your voice will be loud and clear on the other end. If there is too much ambient noise, the mic will pick up some of that noise and muffle your voice, but it will still be intelligible. This is a great speaker for your office. Answering/making conference calls will be much easier with Onyx Studio 2.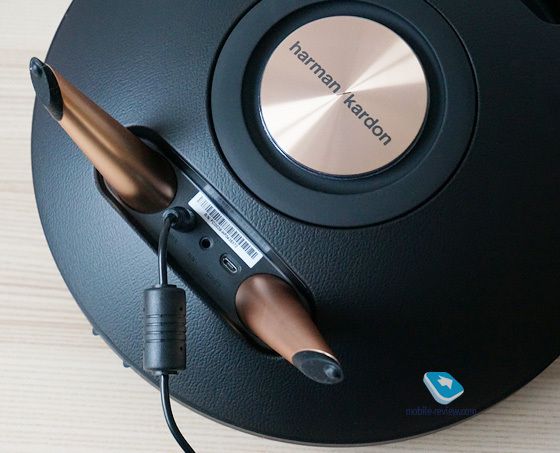 Sound Quality
Sound quality is, along with the design, the biggest highlight.
Harman Kardon installed 4 drivers, two passive subwoofers, and some nice crossovers inside this beautiful speaker, and did a great job tuning them.
The bass is punchy and well bodied. The bass response is quite surprising for the size of the speaker. Still, the bass is very controlled and not overpowering. It is present, even at low volumes.
Recommended Reading :
Tribit XSound Go Portable Bluetooth Speaker Review
Harman Kardon Aura Studio 2 Bluetooth Speaker System Review
DOSS SoundBox XL Bluetooth Speaker Review
The midrange reproduction is very detailed and dynamic. Vocals are slightly elevated and very clear. Highs are sparkling and not at all harsh or intense.
The distortion kicks in at 90% volume and it could ruin the overall listening experience. The bass becomes a bit overwhelming and there is some sibilance in the treble.
The drivers are too close to each other and there is practically no stereo separation. Soundstage is also problematic (narrow) but that's the case with all Bluetooth speakers.
The speaker can be very loud for its size but you can find even louder speakers at this price point.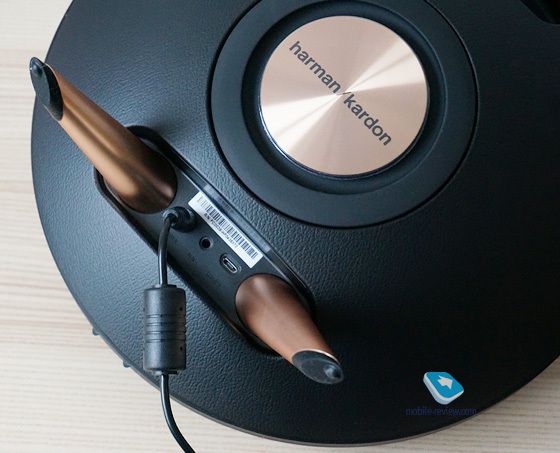 Final Thoughts
Harman Kardon Onyx Studio 2 is a super-elegant and stylish portable Bluetooth speaker. The sound signature is very balanced with a powerful bass, dynamic mids, clear vocals, and sparkling highs. This is a great choice if you need a home speaker, but if you need an outdoor speaker, you should look elsewhere. Since all the Onyx Studio speakers are priced similarly, Onyx Studio 2 would not be our first choice.
We would probably pick one of the upgraded version like Onyx Studio 4 or Onyx Studio 5, but Studio 2 is still a great speaker, especially if you care only about the sound quality. If you need an outdoor speaker, Onyx Studio 2 and other speakers from the Onyx Studio line are not the best choice.
To be informed of the latest articles, subscribe: